Creating a Quote
Quote is the presented offer to the client click here Lead Process overview. You can have mutiple quotes on an opportunity. A quote is the has the ability link to Xero, MYOB and Reckon as a invoice. And has the ability to view quote online, and signature page to close the sale. Some client choose to just to use quote management for account management
To View Quotes
To View a List of quotes
Navigation Bar
Sales
Quotes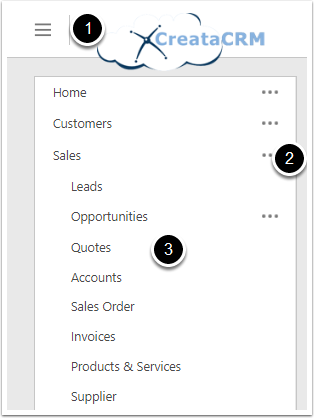 List of Quotes
View the List of Quotes, to customise the columns click here
To Click on a new Quote click on the new button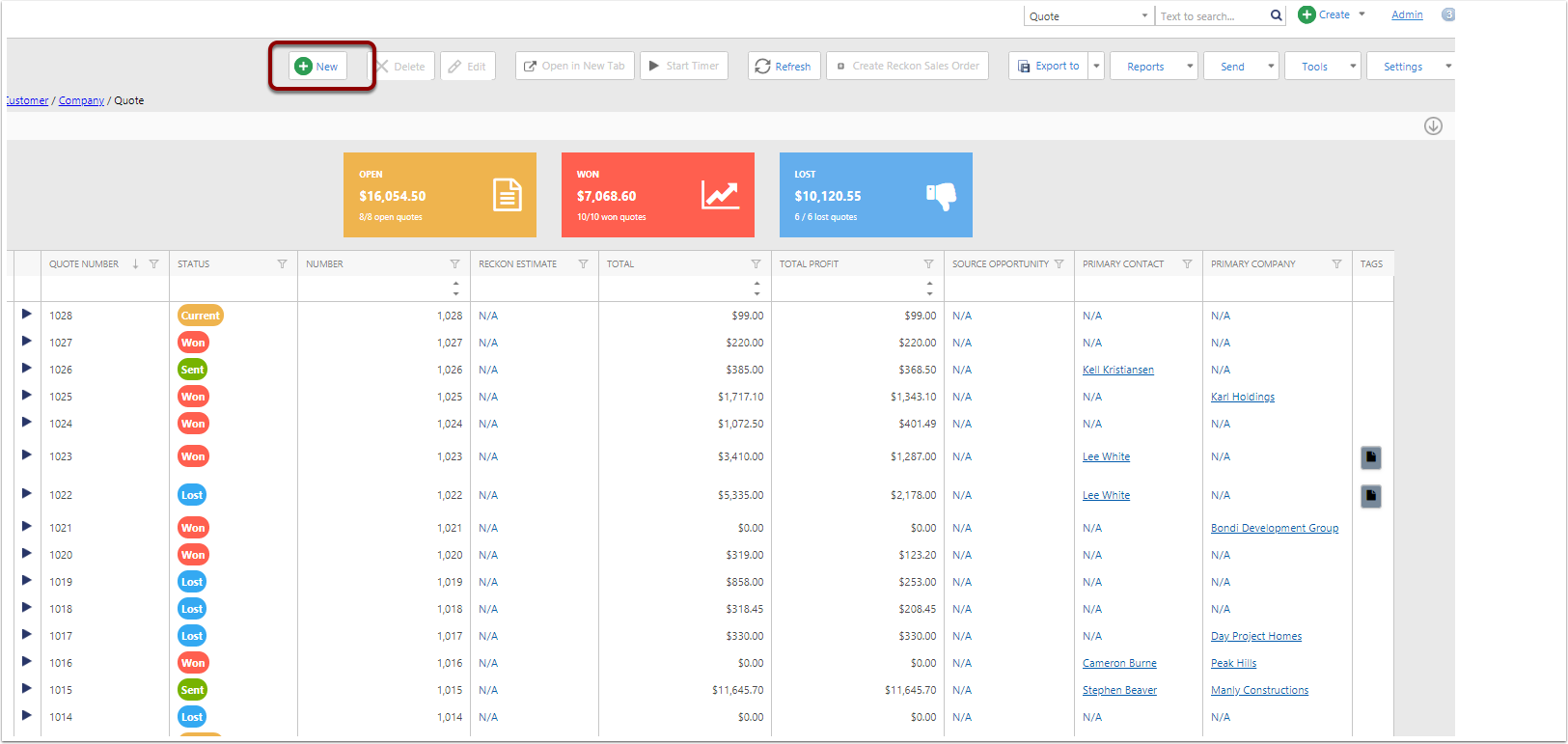 Quick Create
You can access to quick Create of a Quote on Company or Contact
New Drop Down Menu
Quick Create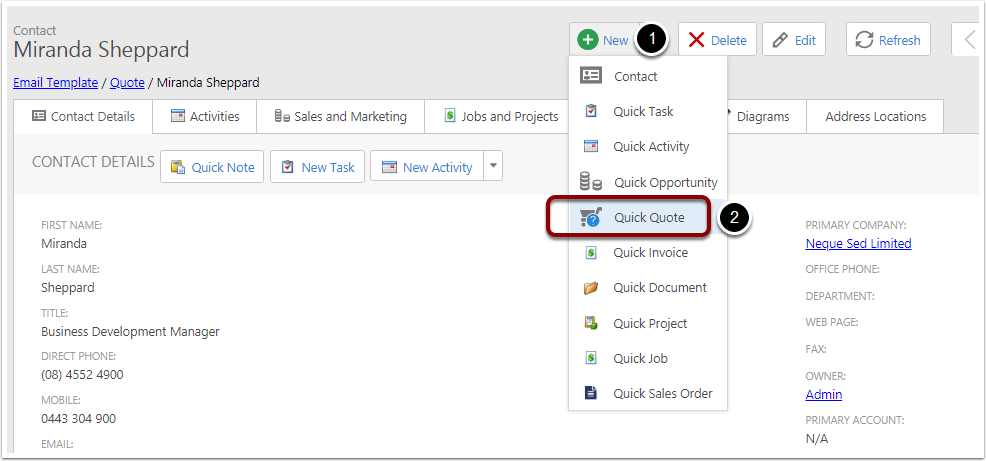 Quote Action Section
The Main view has Quick Actions on the screen, By Default this has Print, Send Quote To and Invoice, This can be customise in HTML , allow you to add other Quick Actions.
By Default
Print - Opens the Print Preview of the default Report for Quotes
Send Quote to Will open a email to dialog Box and set the default email and default quote report ready to be send
This will pop the Invoice to Quote button ready to send a invoice from the Quote.
To change these Settings goto XXX

Main Screen
Quote Number is a Numeric Field, that auto increment.
Name of the Quote. This can be anything you would like
Customer : This can be either a Individual or Company, If it its a Contact with a Company, it will link both Contact and Company field
Primary Company
Primary Contact
Price List : This example has 10% for the client: For moe information click here
Status by Default is

Abandoned
Current
Draft
Inactive
Sent
Won

Valid Until, this field helps the user to put a expiry field on the Quote. We can use work flow to remind the client that the quote is expiring
Promise Date, is useful for a date that the client has promise to go ahead. Again Workflow can create a follow task or email on this.
Approved Date, this is link to the client facing Web page of the Quote
Total Amount on the invoice (This includes GST)
Total Invoice : Because you can part invoice, you have the can see the total amount for the invoice.
Total Balance: How much left to be invoiced
Terms : This link to the terms of the customer when sending the invoice.
Due date is the todays date plus the Terms of the client
Tags, You can tag a quote. Also the tag comes from the customer
Comment Page for General Comments

Quote Editor
Price List : you can change the Price list of the quote
In Line Editor, This can be customise for your needs, this example has

Item Number (With Picture of item)
Description
Qty
Unit Cost
Unit Price
Dsic
Tax Type
Tax Amt
Total Cost
Total Price
Mat = MAterials or Labour

Group line
Add a Line or a Bulk Line
Add a New Group
The Sub Totals and Fright, Remember MYOB only supports this Feature,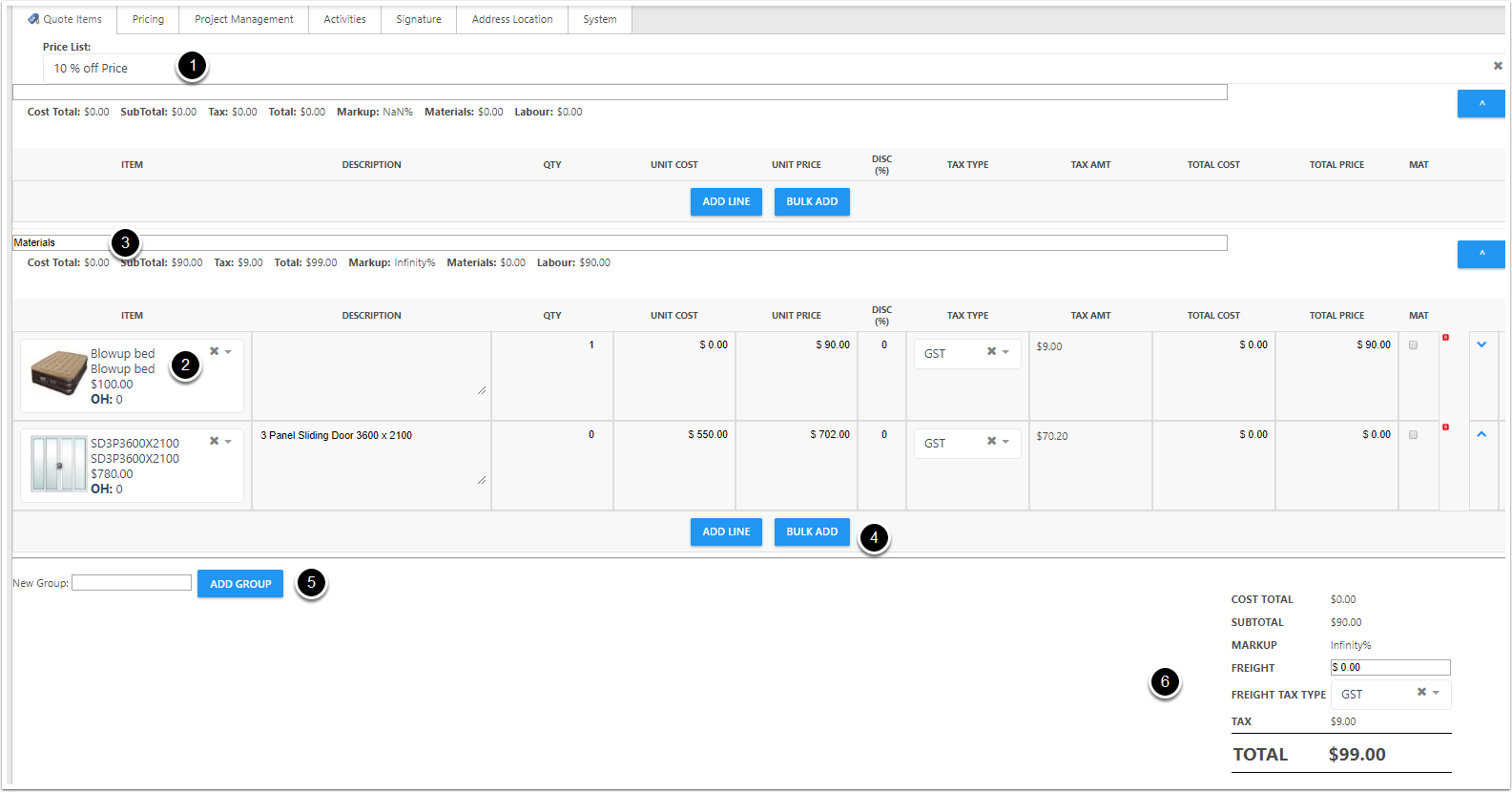 Adding a new Group
Type in the name of the group and then click Add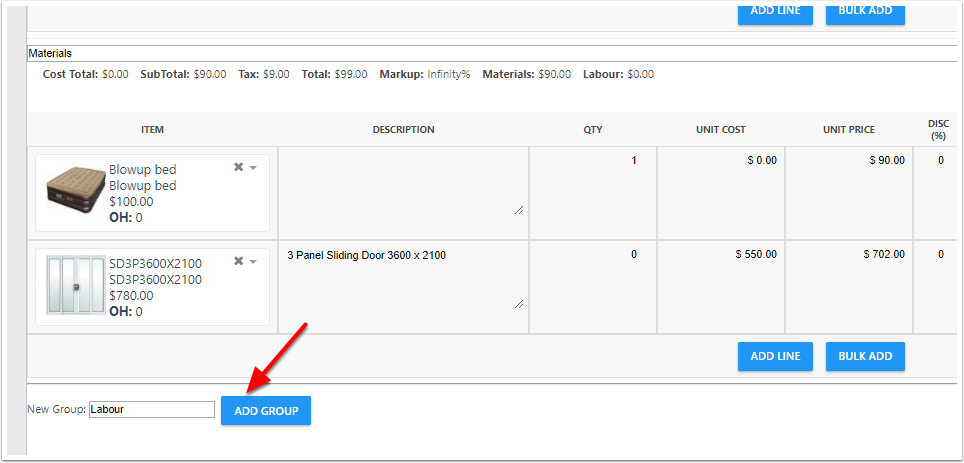 New Group appears
This will add a new Group which will group
Cost total
Sub Total
Tax
Total
Markup %
Total Materials
Total Labour

Adding lines
Title of 1st Group call Materials : The Title can be any think you you like
Title of 2nd Group call Labour for example
In the column, you can tick the Material tick Box to be Material, this will total the Material Column in the above Material Column
Total Cost on of the Group
Total Markup of the group
because the Material column is untick, it will calculating to the Labour column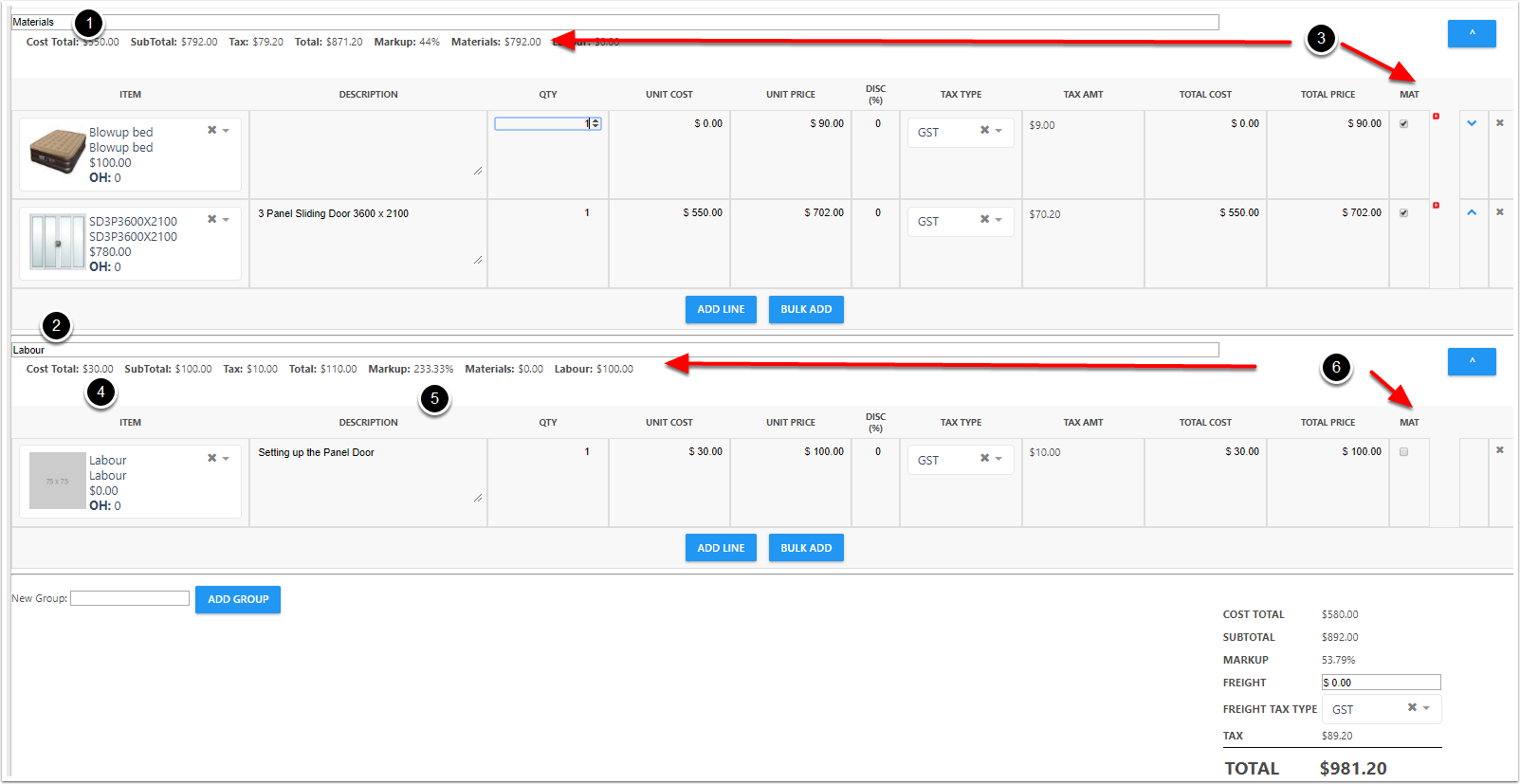 Adding Bulk
You can add Bulk to the group or invoice
click the Bulk Add button

Adding Bulk Options
You can add and cancel adding bulk function
You can search of the products, For this example, when I type w, it will seach all columns for w.
Columns that you can search. we can change this for you if needed
You can type in the qty you need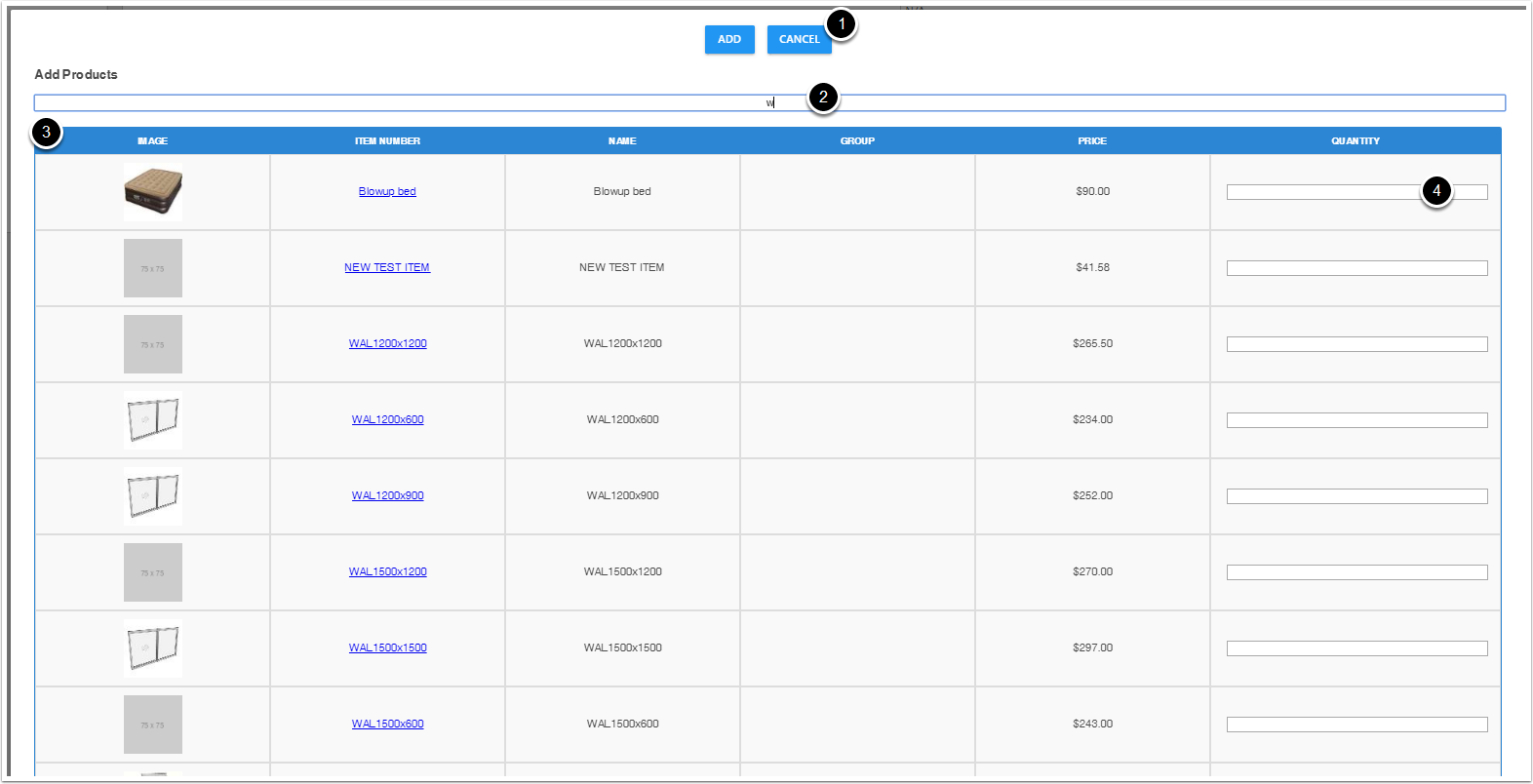 Detail View of the Quote in Non Edit mode
We can have Twisters to hide the groups
Icons to tell you if Labour or materials
Links to product service to view the items

Other Tabs
Pricing : Total, Costing etc
Sales Orders of the quote
Invoices
Project Management
Activities
Signature from the online quote form
Addess Map location
System fields

Actions
Edit
Start Timer
Refresh
Actions to your Accountancy package
Reports on Quotes
Activities - Task etc
Send to Email with different email templates
Other Tools

Send Email Action
click on to Send Email

Quick Sent Quote
You can quickly sent a quote, which is ideal if you on a Tablet, This allows you to send a quote quickly.

To Send a Basic Quote Template
Send a Quote template with a client approve page to sign off
Click on the Send Email Template

Click side Sign off Page
This will send a email with view Quote, which gives client sign off page
Client Sign off Page
Click can click on the View Quote and commit to buy, and click accept to quote
Signature for the Quote
Accept Quote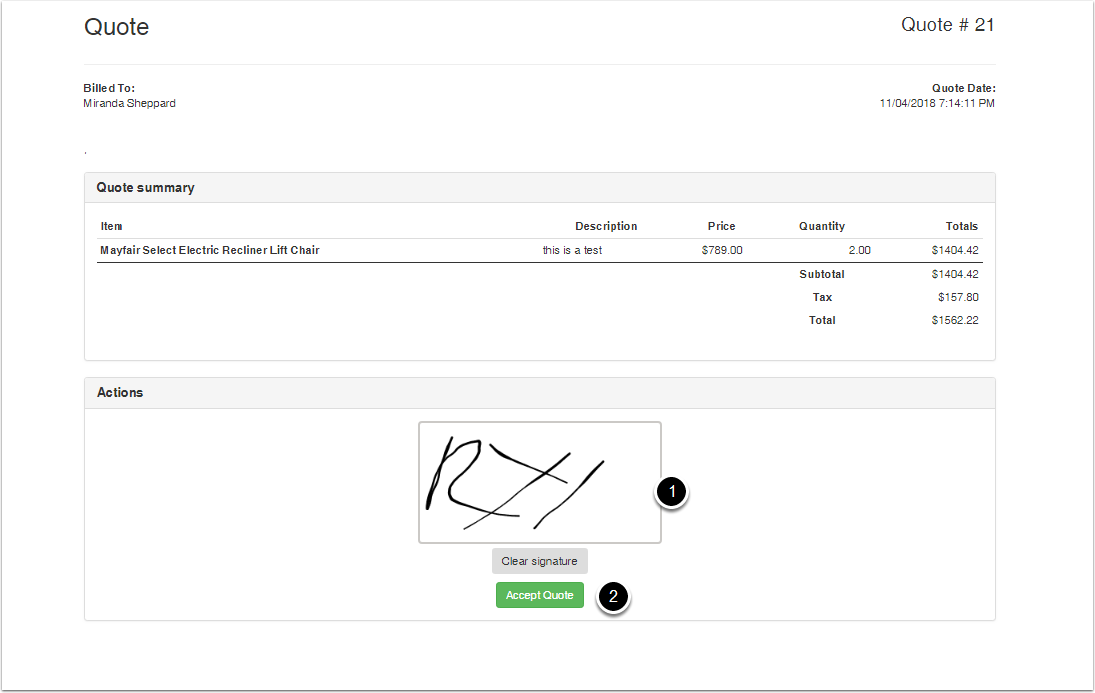 Accept Quote
This will Accept quote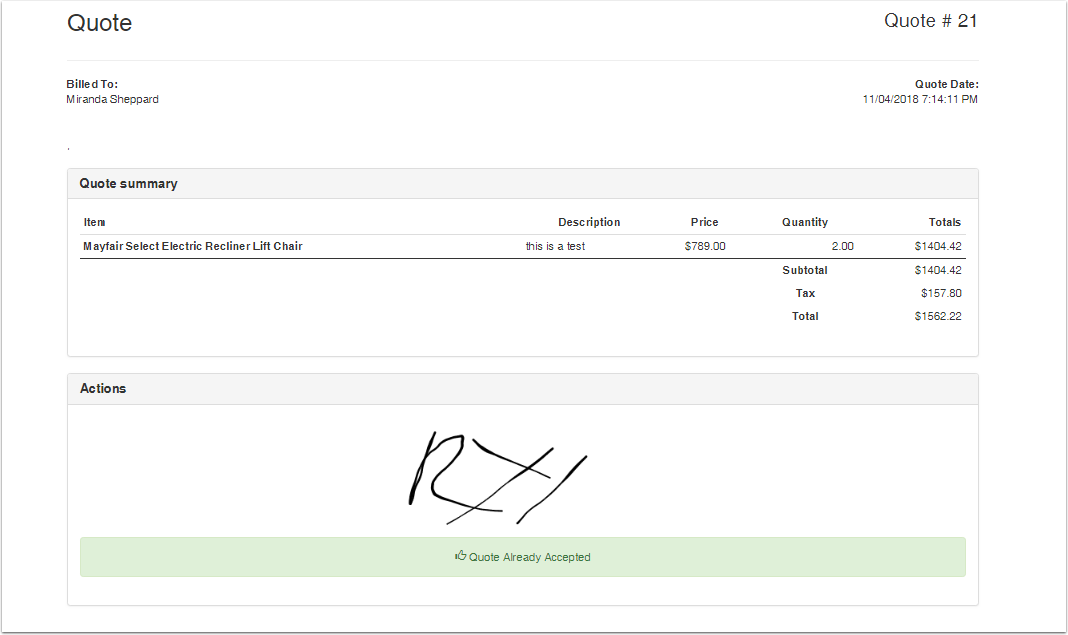 Changes the Quote
Changes the Status to Won
Approve date is that date of Signed and Click Accept approved
Signature in Quote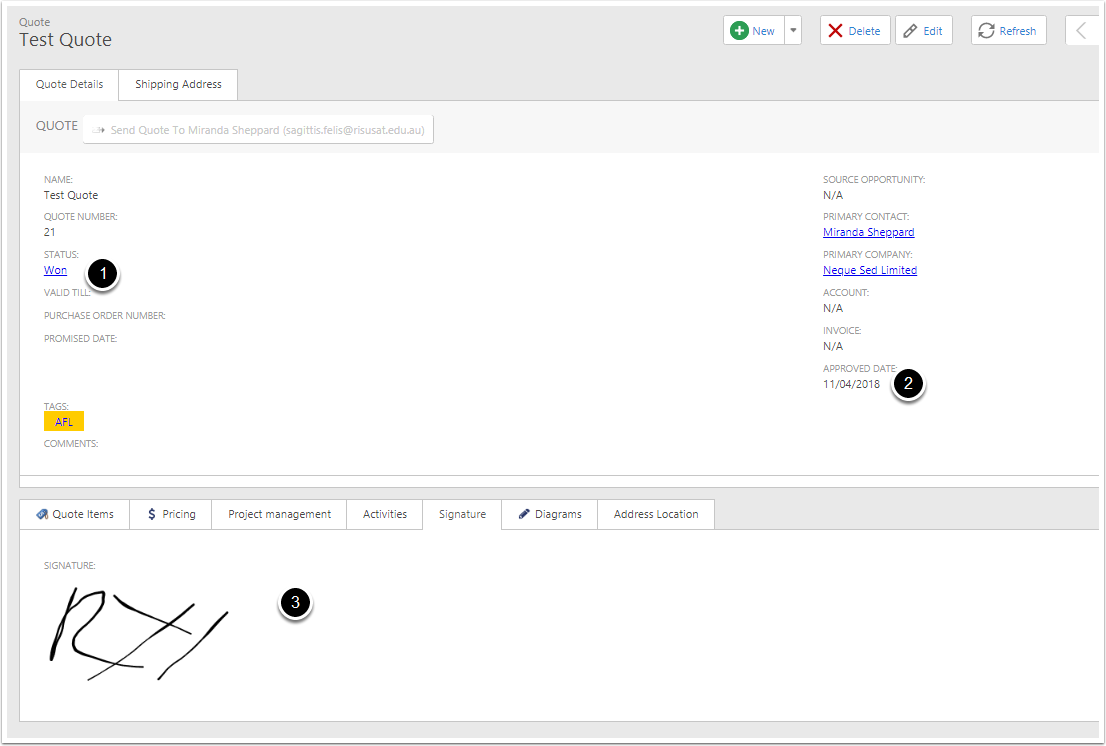 Shipping Address on Quote
The Drop down will be all the address in the Contact and Company
Or search for a new Address